North Portsea Island Phase 4b Update Oct/Nov 2022
'tis the season to be quiet…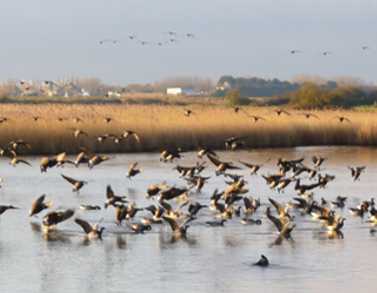 The last few sections of continuous full-height flood defence wall are completed and we are now gearing up for the winter break.
We do not work over the winter months as there are large numbers of several bird species that migrate through and overwinter in the Solent, which are protected by a series of designated sites, including Langstone Harbour.
Whilst pausing all work close to the sea, some landscaping work will still be conducted.
---
We keep going…
Our construction year 2022 saw many challenges: delays in material, heat waves and ongoing COVID-19 absences to name a few.
However, the team kept calm and carried on and substantial progress was made.
In 2022 we successfully
Conducted all piling work along the coast from north of Harbourside Park to all the way south of the Harvester, to (currently closed) Langstone Harbour viewing car park (at Tangier Road) - which is a total of 730m of steel sheet pile wall.
Constructed a total of 540m of full height concrete flood defence wall with our special Ecoformliner mould, using 5,700 tonnes of concrete.
Our Ecoformliner creates a special texture facing the sea to provide shelter and shade while retaining moisture, thus providing a suitable habitat for marine plant and animal species found in Langstone Harbour on North Portsea Island. Once finished, it will be the first ever large-scale application of such a product in the UK and has already attracted national and international interest, with visits from neighbouring councils, the environment agency and visitors from as far as Singapore. In 2022 the scheme was awarded with the 'Coastal Management' award at the Flood and Coast Excellence Awards in June and shortlisted for the British Construction Industry Awards 2022 in the category Environment & Sustainability Initiative of the Year in October.
Installed the third and final area of 310m of glass flood wall at Harbourside Park. To install the glass, individual glass sections weighing up to 350kg each are slotted in between two upright aluminium posts attached to the concrete wall. 
Started on the groundwork for the first social spot, situated between the Tudor Sailing Club and the Andrew Simpson Watersport Centre. For this we reused slabs that were removed as part of the Southsea Coastal Scheme. It features a special compass design and is located next to one of the glass flood wall areas, so visitors will be able to enjoy unobstructed views over Langstone Harbour whilst taking a break.
---
Plans for 2023
Next year will see the construction of the remaining 800m of wall (approx.), tying in with the finished sea defence at Milton Common.
Once all construction is finished, we will start to focus on the social spots, seating, way finders and the installation of the many environmental enhancements that are planned: a new offshore high tide roost site (bird island), tidal pools within the seawall base and bee posts along the path, as well as more wildflowers and trees to enhance the area for all.
Our digital monthly progress updates will also pause over winter, but we will be back to report on progress in Spring 2023 - if you haven't yet, you can subscribe to our updates.
Click to enlarge