Strategic Coastal Monitoring Programme
Coastal Partners delivers topographic and bathymetric surveys for the Southeast Strategic Regional Coastal Monitoring Programme. This programme is funded by DEFRA, and is one of six regional programmes that comprise the National Network of Regional Coastal Monitoring Programmes of England.
The survey work involves measuring the elevation and type of material on the beach and sea bed in a co-ordinated and systematic manner to serve the needs of coastal engineering and management. The area of coastline covered by Coastal Partners extends from Portsmouth through to Selsey Bill, and includes Hayling Island, East and West Witterings, and Bracklesham Bay.
The programme aims to meet the needs of strategic beach management through:
Understanding the short-term fluctuations and long-term trends of coastal processes;
Identifying current problems associated with human activities and natural coastal evolution;
Predicting and monitoring future coastal evolution.
The data we collect is useful to Local Authorities within the region, the Environment Agency, consultants in coastal defence, conservation management and academic research, and for educational purposes. All the data collected is freely available via the Channel Coastal Observatory website.
---
Topographic Beach Survey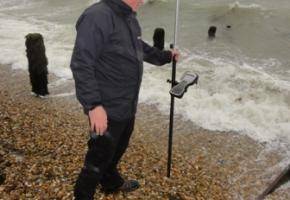 A beach survey is a form of rapid data collection that measures the elevation and position of points and presents them as a plot which may include contours, elevations and 3D models.  This data can then be used for a variety of purposes such as the calculation of beach volumes and movement of beach material.  At the present time the surveys are generally carried out using Global Positioning Systems (GPS), providing high accuracy data to +or-3cm and the ability to easily revisit a site over time, allowing us to build up a picture of how the beach is changing. Data collected include the elevation, co-ordinates (eastings and northings) and the type of sediment for each point.
What is a beach profile?
This is a series of points recorded perpendicular to the sea along predetermined lines.
These lines can be repeated as often as we require to help us best understand the movement of material at that particular point along the beach front.  These profiles are used to build up a picture which allows us to better understand how the beach responds to storm events, the long-term volume changes across the beach and to identify areas that are at an increased flood and erosion risk.  If beach profiling is combined with Bathymetric Surveys (profiles on the seabed recorded from a boat) then we can assess the full zone of wave influence on the beach gaining a much wider understanding of the changes that are happening.
When do we carry out these surveys?
Beach profile surveys are usually carried out twice a year (around autumn and springtime) to reflect seasonal changes in wave energy.  The surveys are carried out during periods of low spring tides to ensure we get to a specified depth and that we capture the full active beach profile.
Where do we carry out these surveys?
The profiles are surveyed at an average interval of between 200m to 250m around the open coastline.  We carry out these surveys from Portsmouth Harbour through to Selsey Bill. Surveys are not normally conducted within the harbours due to their stable and sheltered nature.
Why do we carry out these surveys?
To investigate the effects of seasonal changes around the coast and to gain better understanding and knowledge of the coastline and its processes.  This helps to design better coastal defences to protect against both coastal flooding and erosion. The information is also used to help with current beach management so we can determine when we need to undertake work at a particular location. This is done by comparing previous datasets and interpreting the changes that have taken place.
What equipment do we use?
The equipment we generally use is Real-Time Kinematic GPS .  This allows us to gather data accurately and efficiently with a vertical accuracy of +/- 30 mm and a plan accuracy of +/- 15 mm.  We use a base station and several mobile receivers or "rovers".  The base station transmits corrections via radio signals to the rovers allowing the surveyor to record their position to within +/-30mm at any point.  Data gathering this way allows for speed in data capture which is both accurate and useable. 
---
Bathymetric Surveys
What is a Bathymetric Survey?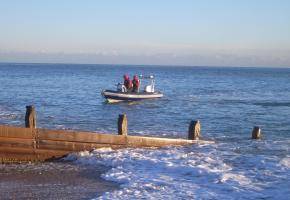 It is the surveying of the nearshore sea bed, for the purpose of mapping, navigation, engineering, or resource management purposes.  Repeated bathymetric survey data, when added to the beach profile data, build up a comprehensive picture to help quantify and explain beach changes above and below the waterline.  This data can be fed into computer models to help design appropriate coastal defences. 
What equipment do we use?
For our Bathymetric Surveys, we use both a chartered vessel and a 4.5m RIB.  The RIB is used for shallow water surveys (nearshore and sandbanks) due to the small draft on this boat.  The larger vessel is used for surveys further offshore as it offers a safer working environment for the surveyors. Both these vessels use an Echosounder and RTK GPS to give the surveyor real-time information about the bed level and position of the vessel. 
When do we carry out these surveys?
These surveys are carried out annually, through the summer months, to build a picture up of how the seabed of the nearshore zone is changing year on year.
Where do we carry out these surveys?
The surveys are conducted along the open coast frontage from West Wittering through to Eastney, Portsmouth.
---
Waves & Tides
Real-time and historic wave and tide data is extremely important when we try to understand how and why our shoreline changes. It is used to help inform decisions on beach management and the effects that storms may have on our coastline.
The Channel Coastal Observatory collect this information through the regional monitoring programme for our frontage. 
---